It seems as if this summer was particularly bad for insect invasions. In fact, many pest professionals received a higher-than-average number of call-outs. But with summer coming to an end, will we see an end to this?
Should people who run commercial buildings invest in rodent control? The answer is a resounding yes. In fact, if you're not already doing this, then you need to start immediately. Here's why this is so important. The problem with commercial buildings and rodents is multi-faceted.
It's possible to get rid of mice extremely fast. That being said, it depends on how much effort you're willing to put in. If you're serious, then follow this plan for eliminating mice as soon as possible.
Can you truly erase cockroaches from your café, pub or restaurant? If you work in the food business, this could seem like an impossible task. After all, these pests are completely ubiquitous. They're everywhere and will not go away, not matter what you do. The good news is that you can get rid of cockroaches. It's a lot of hard work, but it can be done. If  you want to erase cockroaches, then follow these tips. 
Taking care of your carpets and rugs is extremely important. The reason why is simple. The cost of repairing damage to carpets (or replacing them) is astronomical. Moths are one of the many things that can damage carpets. There is a reason we use the expression 'moth eaten'! This is why you should do everything that you can to avoid moths. But does vacuuming daily actually help you do this?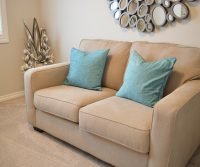 Can rodents nest inside furniture? The short answer is yes. One of the many reasons why these pests are such a pain, is because they nest in hard-to-reach places. Many of these places are completely inaccessible to humans. For example, rodents are famous for nesting inside walls, crawlspaces and pipes. You can now add furniture to this list. But why and how do rodents nest in furniture, and what can you do about this?
Pest awareness is extremely important as we head into autumn and winter. Yes, autumn pests can make your life a complete misery. There are several reasons why pests can be a problem during this time. First, food is becoming more and more scarce as it gets colder. Two, as winter approaches, pests start looking for shelter.
Do you have a mouse infestation in your home? Determining this is relatively simple. Mice leave behind tell-tale signs. These are quite easy to spot, once you know what they are. Some of the following things could mean there are mice on your property.
Dealing with a bed bug infestation can be extremely difficult. These are some of the most tenacious pests you'll ever encounter. That being said, they are not impossible to get rid of. Simply following these dos and don'ts makes the task a lot easier.
How do you keep al fresco dining free from pests? This is a good question. After all, the main point of eating al fresco is that you get to enjoy the weather. This becomes pointless if you have pests descending. It's hard to enjoy yourself with flies and other pests hanging around. To prevent this from happening, here are some tips you can follow.